MANUFACTURER OF
INNOVATIVE
TECHNOLOGIES
WE ARE A EUROPEAN COMPANY WITH A GLOBAL REACH
We specialize in providing reliable information about your cow 24 hours a day, 7 days a week. We are an expert in the field of precision farming. We support a modern farmer. We make modern technology improve the efficiency of breeding as well as financial indicators, and thus increase the efficiency of the entire farm and the breeder's satisfaction. We care for the welfare of dairy cows. We educate farmers in the field of modern technologies.
Why do you need a monitoring system
E-stado®
vs

activometers in a cow's life cycle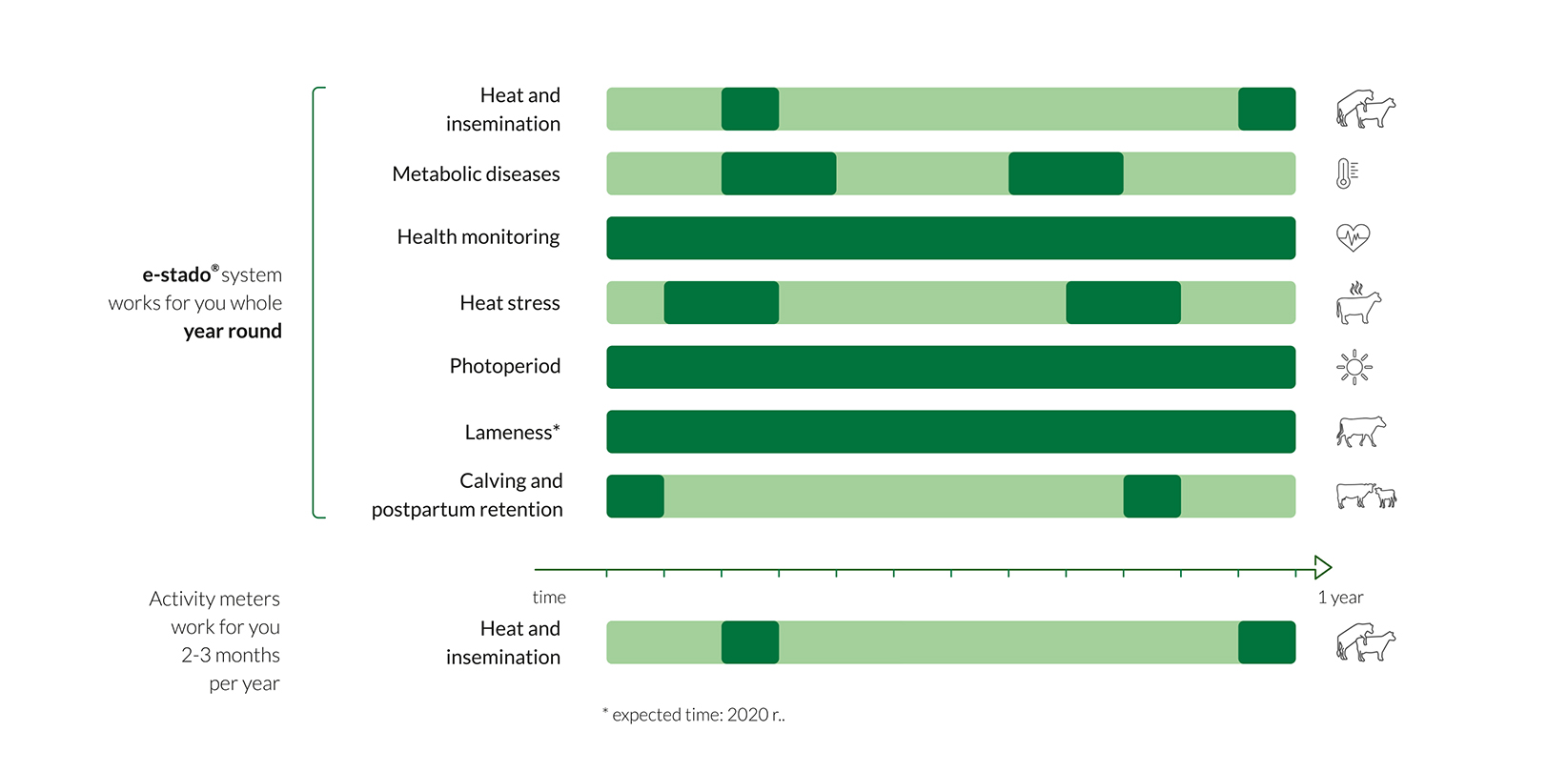 Advantages of the e-stado® system
Important information about your herd on ONE screen 24/7
You do not need to analyze all charts every day. The system monitors the behavior of each animal in your herd, and sends an SMS concerning sudden events.
Simple assembly
and system usage
at every cowshed
Simple use in the environment of all cowsheds, including stables. Always up-to-date software. No computer in the cowshed. Biosensors powered by light, no need to replace batteries
Professional
customer
service
Assistance at the implementation stage – dedicated factual, information, and technical support. The possibility of constant support in the breeding process.
Buy comfortably online
All elements of the e-stado® system can be bought at the online store after logging into B2B
The most common causes and prevention
Read more
After installing e-stado®, I detect half as much heat as before, but the most important thing for me is e-stado®
Read more
In my daily work, monitoring the rumination is the most important thing. It proves health and milk production. Thanks to
Read more
I use e-stado® on my phone. A simple program. It presents the most important data. You can see everything that
Read more
e-stado® monitoring is very convenient for me after installation. There are no computers, cable systems in the cowshed or complicated
Read more
Yes, that's what my breeders ask about. Easy to use, no computers, everything on the phone. The heat detection and
Read more